With Share a Flow, you can quickly and easily share your Flow with others, even if they don't have a Homey device. Sharing your Flows with others can help inspire them with new ideas for home automation. But only people with your magic link have access to your Flow. You can Share a Flow in two different ways.
Sharing a Flow from your mobile device
In the Homey mobile app, tap on Flow in the main menu to open the Flow editor, and click on the Flow you want to share.
Tap on the Share icon right next to the settings button → choose the platform → add your personal message.
Press Send.
Sharing a Flow from your desktop - Flow for Web
Go to flow.homey.app and choose the Flow you want to share on the left side of the screen.
Select Share → click on the URL, and it will be automatically be copied to your clipboard.
You can paste the URL anywhere you like or choose one of the sharing options and add your personal message.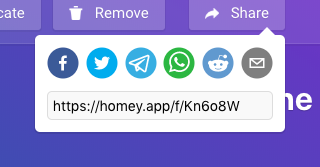 Once you've finished entering your details, click on Send.
Embedding a Flow on your website
Do you have a WordPress website or blog? This plugin allows you to easily add your Flow to WordPress - and your blog posts, so readers can quickly share your content.
Who can see your shared Flows
Anyone that has the shared link will be able to see the Flow you shared. Other people won't be able to see your shared Flow.
A shared Flow will always be visible – even if you removed it.
Want to know more about creating Flows? Check out the Flow section in the Knowledgebase.